Prenuptial Agreement
Premarital agreements are common legal contracts taken before marriage. These contracts establish the property and financial rights of each spouse in case the divorce may appear in marriage relationship.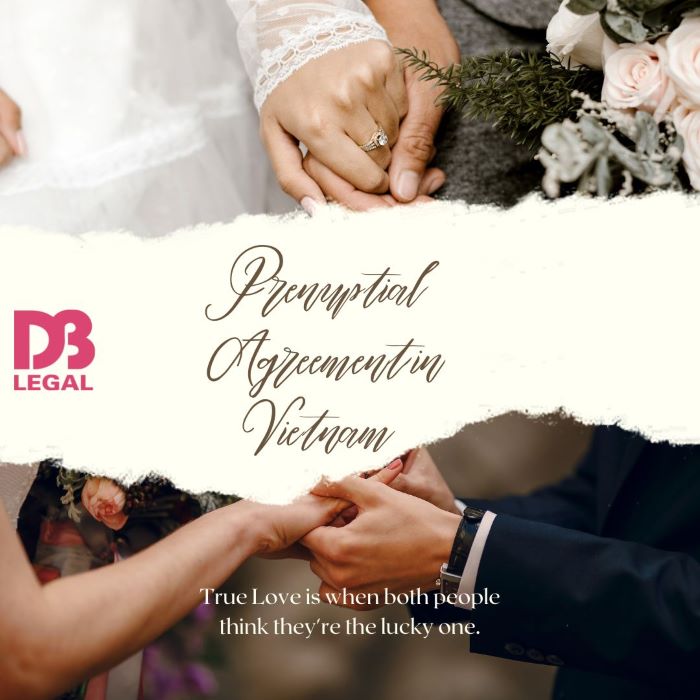 Premarital agreements are often created to solve the asset's problems when the divorce happened and for the aim of protecting not only the assets of wealthy spouses but also can protect family businesses.
In Vietnam, this agreement shall be made in writing before their marriage and be notarized or certified. Husband and wife have the right to modify their agreement on the property regime. This modifying of contract will take effect on the date it is notarized or certified. When establishing and making a transaction, the husband and wife have to show the third party with this information. If they intend to ignore this information and may be harmful for the third party, they will be protected by civil law.
Regarding to the contract, the basic contents of an agreement on the property regime include:
a/ Property determined as common property and separate property of the husband and wife;
b/ Rights and obligations of the husband and wife toward common property, separate property and related transactions; property to meet the family's essential needs;
c/ Conditions, procedures and principles of property division upon termination of the property regime;
d/ Other related contents.
An agreement on the matrimonial property regime will be declared to be invalid by a court when:
a/ It fails to meet the conditions on effect of transactions prescribed the Civil Code and other relevant laws;
b/ It violates Article 29, 30, 31 or 32 of Law on marriage and family;
c/ Its contents seriously infringe upon the rights to be supported and inherit and other lawful rights and interests of parents, children and other family members.

Related Posts:
1. Legal Benefits of Getting Married in Vietnam
2. Marriage Requirements Involving Foreign Elements in Vietnam
3. Living Together Without Marriage Registration in Vietnam
4. Dividing Properties and Assets in The Marriage Period in Vietnam
6. Divorce Between Foreigner Or Vietnamese and Foreigner in Vietnam
7. Marriage Registration in Vietnam
"DB Legal is a full legal service law firm based in Da Nang, Viet Nam. We bring enormous legal experience for both local and foreign parties in Central Viet Nam, mainly areas in Da Nang, Hoi An, Nha Trang, Hue, Quy Nhon ,etc.
For more information: Our Vietnamese social page or English social page
Call Us:
Local Office Numbers:
Hotline/Whatsapp/Zalo:
+84 357 466 579
Email:
contact@dblegal.vn