Work permit in Vietnam
According to the Labor Code, foreigners must have a work permit before working in Viet Nam, except for a work permit exemption. The process of applying for a work permit takes 25 working days according to the Laws and other related regulations, but it is usually longer in practice. After Covid, the number of work permit applications has gradually increased because Viet Nam's economy is recovering with bright prospects. Several policies were enacted to support the competent authorities to ensure the management of foreign workers. However, foreign workers and Enterprises face difficulties applying for a work permit because of a misunderstanding of the work permit regulations
I. Who needs a work permit in Vietnam?
Foreigners who move to Vietnam for employment for:
a) Executing the labor contracts; or
b) Complying with the company's internal reassignments; or
c) Enforcing contracts or agreements on business, commerce, finance, banking, insurance, science and technology, culture, sports, education, vocational training, and health; or
d) Providing services under contracts; or
e) Offering services; or
f) Working for foreign non-governmental organizations or international organizations in Vietnam that have been granted operating licenses by the Vietnam law; or
g) Working as volunteer; or
h) Taking charge of establishing the commercial presence; or
i) Working as managers, chief executive officers, experts, technicians; or
k) Participating in the execution of bid contracts and projects in Vietnam.
(Except in some cases)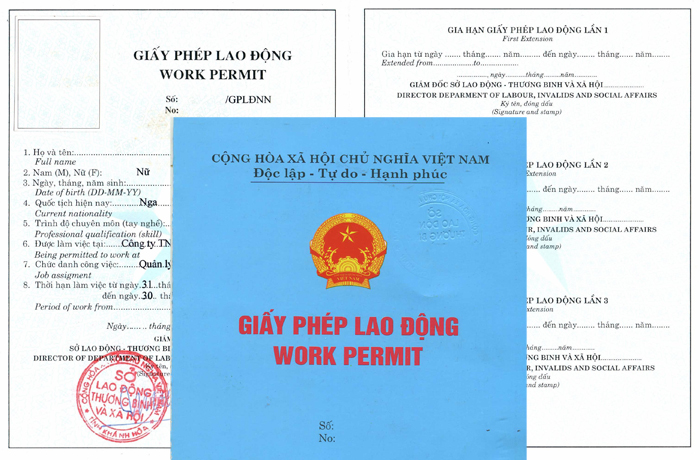 II. What if foreign employees work in Vietnam without a Work Permit?
Expats working in Viet Nam without work permits (except where they are exempted by the Ministry of Labor, War Invalids, & Social Welfare) will be expelled from the country.
III. The process of Work Permit:
Firstly, the employer has to apply to demanding for foreign employees in their company. At least 30 working days before the foreign workers are expected to be employed; the company shall send the dossier to the Department of Labor, War Invalids, and Social Affairs, where the company is located. The competent agency shall issue the result within 15 working days of the receipt's dossier
Secondly, the employee and the employer must prepare the lists of documents and papers for step 2 of the work permit specified in Article 9 of Decree 152/2020/ND-CP, in particular:
1. An application form for issuance of a work permit No. 11/PLI Appendix I hereto appended.
2. A fitness-to-work certificate issued by a foreign or Vietnamese competent health facility issued within 12 months before the submission date of the application or the certification as specified in regulations of the Minister of Health.
3. A police (clearance) certificate or a document certifying that the foreign worker is not serving a sentence, has a criminal record expunged or is not facing a criminal prosecution issued by a foreign or Vietnamese authority.
The foregoing police (clearance) certificate or document certifying that the foreign worker is not serving a sentence, has a criminal record expunged, or is not facing a criminal prosecution must be issued within six months before the application submission date.
4. Proofs as a manager, executive, expert, technical and specific jobs, works (such as a foreign degree...)
5. 02 color photos (4cm x 6cm size, white background, front view, bare head, no color glasses) taken within six months before the application submission date.
6. An acceptance of demand for foreign workers unless it is not required.
7. A valid certified true copy of passport as per the law.
8. Documents relevant to the foreign worker
Any document mentioned in clauses 2, 3, 4, 6, and 8 hereof is one original or certified true copy; for records of foreign countries, unless they are exempt from consular legalization under an international treaty to which the Socialist Republic of Vietnam and the concerned foreign country are signatories or under the principle of reciprocity or as per the law, they must be consular legalized, translated into Vietnamese and certified.
IV. Duration of Work Permit
The work permit duration shall not exceed 02 years and can be re-issued.
V. Recommendations
Although the regulation of the Laws stimulates the lists of documents for work permit application, collecting all of these documents is time-consuming complicated, and especially for papers written and issued in other countries. The consular legalization procedure differs from country to country, some foreign documents can be consular in the Embassy in Viet Nam, but others cannot. The employees must send foreign documents (such as their working experience or degrees) to their country for legalization.
Thirdly, as previously discussed, obtaining a work permit takes two steps; (i) applying to accept the demand for foreign workers in the company and (ii) applying for a work permit. In case the foreign labor does not have the criminal record check, the process of criminal record check shall do the same time as step 1 of the work permit to be prepared for step 2. Therefore, the preparation process takes much time, and the process of waiting for a work permit is also long. In urgent cases where it is necessary to employ foreign workers immediately, the process of work permits will hinder this demand and make it difficult for employees and employers to work legally in Viet Nam. Therefore, the legislature should consider shortening the procedure and simplifying the documents to be submitted, thereby encouraging high-quality foreign workers with many skills and experiences to participate in the Vietnamese labor market.
In conclusion, the process for a work permit in Viet Nam takes much time because of requiring many documents and papers in the application and many procedures. Therefore, the employees and employers should be advised by the Lawyers in Viet Nam to overcome barriers and time-saving. In practice, many companies are using foreign workers without applying for a work permit or work permit exemptions due to the difficulties, which are risks for both employees and employers.
"DB Legal is a full legal service law firm in Da Nang, Viet Nam. Our Lawyers bring enormous legal experience for local and foreign parties in Central Viet Nam, mainly in Da Nang, Hoi An, Nha Trang, Hue, Quy Nhon, etc.
For more information: Our Vietnamese social page or English social page
Call Us:
Local Office Numbers:
Hotline/Whatsapp/Zalo:
+84 357 466 579
Email:
contact@dblegal.vn