Temporary Residence Card (TRC) in Vietnam
Temporary Residence Card in Vietnam
Who can be issued Temporary Residence Card in Vietnam?
The temporary residence card holders are usually investors whom invest to establish company in Vietnam (FDI or person who buying capital or stocks the Vietnamese Companies), or employee being employed and sponsored by an organization in Vietnam, including:
- Members of diplomatic missions, consular offices, representative offices of international organizations affiliated to the UN, representative offices of intergovernmental organizations and their spouses, children under 18 years of age, and housemaids during their term of office. (NG3)
- People who come to work with units affiliated to Vietnam's Communist Party; the National Assembly, the government, Central Committee of Vietnamese Fatherland Front, the People's Supreme Court, the People's Supreme Procuracy, State Audit Agency, Ministries, ministerial agencies, Governmental agencies, the People's Councils, the People's Committees of provinces. (LV1)
- People who come to work with socio-political organizations, social organizations, Vietnam Chamber of Commerce and Industry. (LV2)
- Foreign investors in Vietnam and foreign lawyers practicing in Vietnam. (DT)
- Managers of representative offices or projects of international organizations and foreign non-governmental organizations in Vietnam. (NN1)
- Heads of representative offices, branches of foreign traders, representative offices of other foreign economic, cultural, professional organizations in Vietnam. (NN2)
- People who come to study or serve internship. (DH)
- Journalists who have permanent residences in Vietnam. (PV1)
- People who come to work. (LD)
- Foreigners that are parents, spouse, and children under 18 years of age of the foreigners issued with LV1, LV2, DT, NN1, NN2, UNIVERSITY, PV1, LD visas, or foreigners that are parents, spouse, and children of Vietnamese citizens. (TT)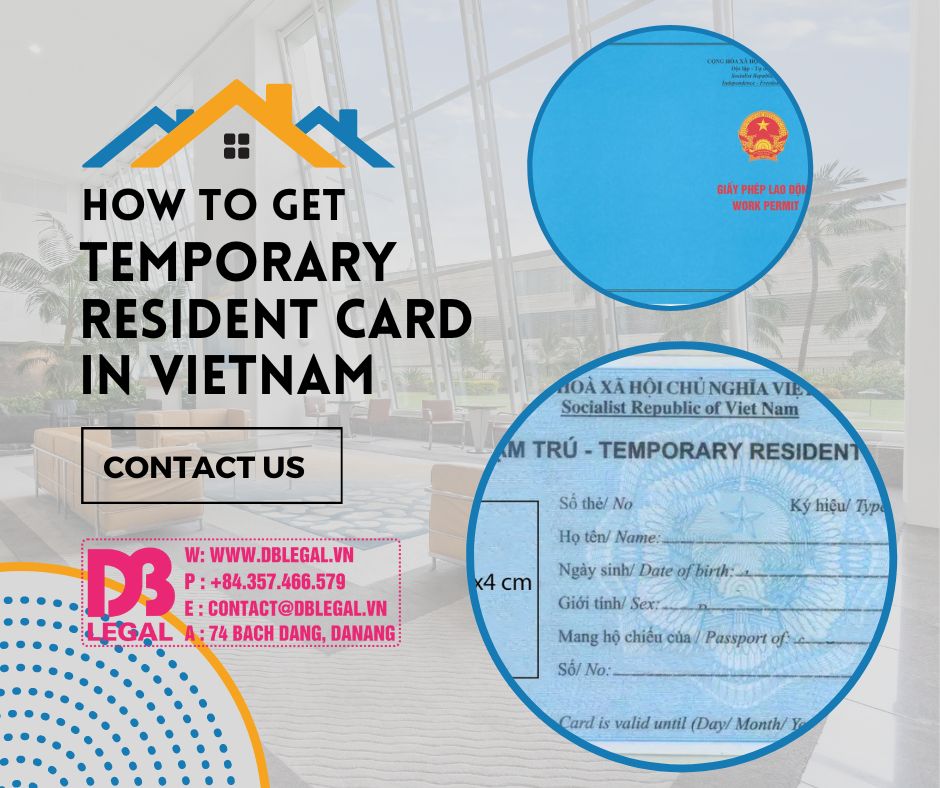 What are conditions for getting residence card in Vietnam?
- Time to stay in Vietnam more than 01 year;
- Valid passport more than 01 year;
- In case of having a work permit, the work permit of the foreigner must be valid for 01 year from the date of the application for a temporary residence card. For investors, there must be written documents proving that foreigners contribute capital to, or invest in, enterprises in Vietnam (business registration certificates, investment licenses …).
What are documents to Apply Temporary Residence Card?
- A written request of agencies, organizations and individuals offering, guarantee and propose for temporary residence card (form NA7)
- 01 declaration of information of foreigners who apply for temporary residence, with photos and sealed by the agency or organization: A written request for temporary residence card (Form NA8); a declaration about Foreigners applying for temporary resident card (Form N7B)
- Two 3 x4 cm size photographs;
- Passport, valid visa, immigration cards (bring original for comparison);
- Notice of use of the seal of the enterprise
- 01 copies or photo (bring the original for comparison) proof of purpose to stay in Vietnam.
Depending on situations, the following documents would be required: investment licenses, permits the establishment of enterprises, work permit in Vietnam, certificate of board members and permits the establishment of representative offices, marriage/birth registration.
Duration to Obtain Temporary Residence Card in Vietnam: 05 to 07 days from the day we submit the documents required.
For inquiries, please make an appointment before your coming via: