How To Set Up a Factory in Vietnam
Vietnam is coming to be a desirable location for foreign investors who are seeking the new location to set up a Factory in Asia. The reasons are that Vietnam has a stable political climate, a wealth of natural resources, and cheap and skilled labor
I. Introduction
Vietnam is coming to be a desirable location for foreign investors who are seeking a new location to set up a Factory in Asia. The reasons are that Vietnam has a stable political climate, a wealth of natural resources, and cheap and skilled labor.
Vietnam's foreign investment situation in the first quarter of 2023 is estimated to have disbursed more than 4.3 billion USD, with the processing and manufacturing sector leading the way with nearly 4 billion USD or 73% of the total registered investment capital, according to the Foreign Investment Agency. At the moment, Vietnam is a great place to produce automobiles, electronics, machinery, and textiles in addition to footwear and footwear.
A foreign-invested factory still requires two main certificates for setting up a company in Vietnam: Investment Registration Certificate and Business Registration Certificate. However, establishing a factory necessitates several additional procedures due to its complex nature and a more significant land fund requirement. The essential steps are listed below to set up a factory in Vietnam with foreign investment.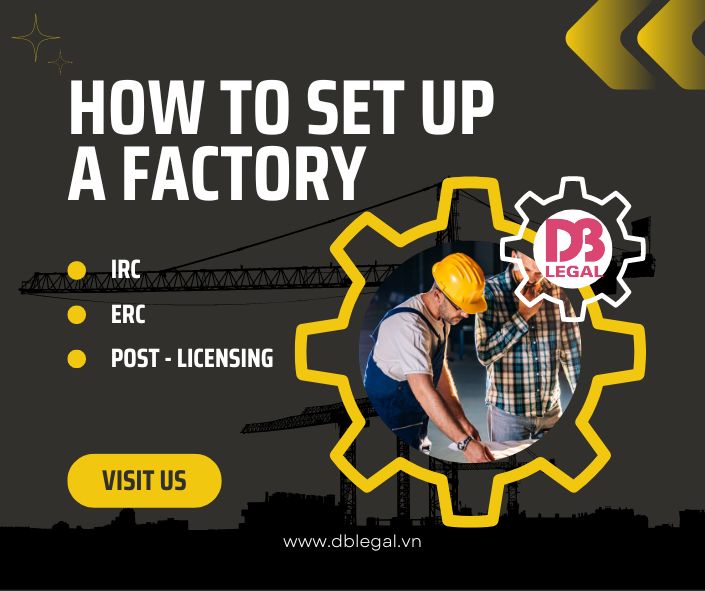 II. Choosing the Location for Establishing a Factory in Vietnam
Industrial parks and Zones are being built and developed rapidly in Vietnam. The following is a list of the main industrial parks in Vietnam:
Region North: VSIP Hai Phong, Dinh Vu, and Yen Phong Industrial Part.
Region Central: VSIP Quang Ngai, Phong Dien Industrial Part, Da Nang Hi-Tech Park and Industrial Zones.
Southern region: Long Hau, My Phuc III, and the Industrial Part of Nhon Trach 3.
The following methods are used by investors to establish factories on land:
- Renting Existing Factory: Rent factory buildings that have already been built by licensed infrastructure leasing companies. Investors looking to rent land for small-scale factory construction will benefit from this plan.
- Renting Land and Build Factory: Investors who wish to lease land with a long lease term and leased land area for constructing medium-sized factories or more will benefit from this strategy. Investors will benefit from special regulations for businesses in industrial parks and export processing zones when constructing factories in industrial zones or export processing zones
- Submitting for the Land use right and building Factory or Submitting for Land use right and Existing Factory at the competent agency: Investors with a long-term land lease plan and a large lease area should consider this option. However, this option has the disadvantage of requiring a significant amount of time and money to obtain authority approval for the investment policy in terms of land use planning and zoning as well as ground clearance (if the leased land has not been ground cleared).
III. Apply for Investment Registration Certificate in Vietnam
The Dossier for applying for the Investment Registration Certificate:
- An application form for execution of the investment project, including a commitment to incur all costs and risks if the project is not approved
- The documents verifying the investor's legal status, such as the passports or the company registration certificate;
- The bank balance for verifying the financial ability of an individual or the investor's financial statements for the last two years for enterprise;
- The certified copy of the certificate of ownership of land use rights;
- The certified copy of the leasing contract; or other document identifying the right to use the location for execution of the investment project is required to be submitted.
The foreign documents need to be legalized and translated into Vietnamese for use in Viet Nam.
Duration: The investment registration authority responds to the application for the Investment Registration Certificate to the investor within 15 days from the date of receipt of a valid dossier.
IV. Apply for Business Registration Certificate in Vietnam
The foreign investor has to prepare the documents as follows:
- The Application for registering the company (forms under the Law of Enterprise);
- The company's charter;
- The documents verifying the investor's legal status, such as the passports or the company registration certificate issued from the country where the investor comes from;
- The Lists of investors;
- The Investment Registration Certificate.
Duration: 05 working days from the date on which the application is accepted by the competence agency under the Law of Enterprise
V. Additional Licences
a. Construction Permit
A construction permit is a legal document issued by a competent state agency to the owner of a project for the purpose of building, repairing, renovating, or moving a work.
Dossier for a construction permit application:
- A copy of the Certificate of ownership of Land use right;
- A copy of the investment registration certificate;
- Copies of design managers' practice certificates and declarations regarding the capabilities and experiences of designing organizations or individuals in charge of construction design.
- Written design appraisals issued by the specialized construction agency for works that require an appraisal, as well as design drawings of each work that requires a construction permit.
b. Fire Safety Certificate
Dossier for Fire Safety Certificate application:
- Appraisal of firefighting and prevention design by the competent authority before commencing the construction.
- Acceptance of firefighting and prevention by the competent authority before putting the construction works into operation.
- Compulsory fire and explosion insurance for the properties of the industrial park.
- Safety rules for fire prevention and fighting which must have the basic content specified under Article 5.1 of Circular 66/2014.
- Direction map, instruction signs for firefighting and prevention.
- Fire prevention and fighting control documentation which includes documents as listed under Article 3.1 of Circular 66/2014 including but not limited to inspection minutes regarding safety of fire prevention and fighting, logbook for training, and management of fire prevention and fighting equipment.
- Decision on the establishment of grassroots fire brigades or professional firefighting teams which must be submitted to the competent authority.
- Certificate of training on fire prevention and fire fighting for grassroots fire brigades;
- Firefighting vehicle for the industrial park which is assessed (kiểm định) by the competent authority
c. Environmental Impact Assessment:
Environmental Impact Assessment means the process of analyzing, assessing, identifying, and predicting the environmental impacts of an investment project in order to take measures to reduce adverse impacts on the environment.
The main contents of an environmental impact assessment report include (Article 33 of the Law of Environmental Protection):
a) Origin of the investment project, project owner, authority approving the project; legal and technical bases; EIA methods and other methods adopted (if any);
b) Conformity of the investment project with the national environmental protection planning, regional planning, provincial planning, regulations of law on environmental protection, and other relevant regulations of law;
c) Assessing selected technologies and work items and activities that may result in adverse environmental impacts;
d) Natural, socio-economic, and biodiversity conditions; assessment of the state of the environment; identifying affected subjects and sensitive environmental factors at the project location; demonstration of the suitability of the project location;
đ) Identifying, assessing, and predicting major environmental impacts and waste generated in the phases of the investment project quantity and nature of waste; impacts on biodiversity, natural heritage sites, historical-cultural sites/monuments, and other sensitive factors; impacts caused by land clearance, migration and relocation (if any); identifying and assessing environmental emergencies that are likely to occur;
e) Works and methods for collecting, storing, and treating waste;
g) Methods for reducing other adverse environmental impacts of the investment project; environmental improvement and remediation scheme (if any); biodiversity offsets scheme (if any); environmental emergency prevention and response plan;
h) Environmental management and supervision program;
i) Consultation result;
k) Conclusions, propositions, and commitments made by the investment project owner.
Other sector-specific licenses such as food hygiene licenses, product self-declarations, or/and declarations of conformity.
VI. Post - Licensing steps
- Making the Seal of the company;
- Opening bank account and registering with the Tax Department;
- Labor Registration
- Declaring the Business License Tax and Payment;
- Charter capital contribution;
VII. In Summary
The steps involved in starting a manufacturing business in Vietnam are covered in this article. It emphasizes the significance of acquiring the necessary documents, particularly the Investment Registration Certificate and Business Registration Certificate, supplying a comprehensive company structure, and carrying out due diligence to guarantee compliance with local regulations.
With the development of technical infrastructure for industrial production, Vietnam will be the best choice for foreign investors to set up a manufacturing factory in Asia.
VIII. How DB Legal could help your business
"DB Legal is a full legal service law firm in Vietnam. Our Lawyers bring enormous legal experience for local and foreign parties to overcome cultural barriers and achieve their strategic and financial goals while ensuring regulatory compliance, risk mitigation, and best interest protection.
DB Legal help Client choose suitable solutions for their business and provide insightful advice for Client's growth.
For more information: Our Vietnamese social page or English social page
Call Us:
Local Office Numbers:
Hotline/Whatsapp/Zalo:
+84 357 466 579
Email:
contact@dblegal.vn