Danang – The important economic center of Midland and Highland in Vietnam
Danang lies in the Central Heritage lane which connects Hue, Hoi An and My Son Sanctuary to create Hue, Danang and Hoi An Central Heritage road. With this indispensable position, Danang plays an important part in promoting the development of neighboring provinces such as Thua Thien Hue, Quang Nam, Quang Ngai and Binh Dinh. Due to crucial and diverse geographical position (including mountains, beaches and plateau), Danang creates a distinctive feature to develop economic fields of the area, especially tourism development.
Table of contents: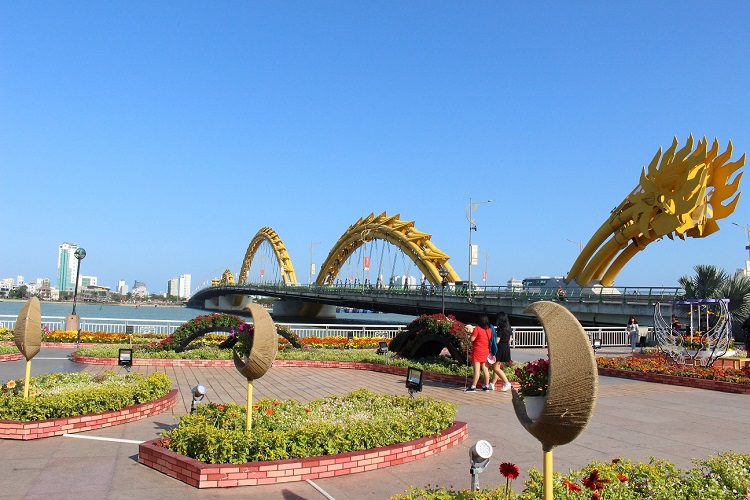 Dragon Bridge in Danang city
1. Infrastructure Development
Danang is an important transportation hub of Midland and Highland with a diversity of transport modes such as international airport, ports, roads and railways connecting the North and South.
Tien Sa Seaport in Danang is one of three major ports of Vietnam. The total Tien Sa seaport system receives the investment from Japan with developing freight warehouse and transportation system. Danang Tien Sa port has the ability to receive medium range tankers of up to 45,000 DWT with various transport modes. Tien Sa seaport in Danang is able to meet domestic and international transportation needs, depending on the demand from the investors.
Danang International Airport is one of the best designed airports in the area. This airport connects with almost other provinces in Vietnam, especially major economic ones and main tourist destinations. Additionally, Danang International Airport offers direct international flights from Danang to Singapore, Bangkok, Taiwan, Japan, Hong Kong, Korea. Currently, this airport is the main motivation to attract a huge number of investors in the area.
2. As for Danang Road System
National Route 1A and 14B throughout the city provides road connection to Hanoi in the North as well as Ho Chi Minh city in the south, Highland and Laos in the west. Hai Van pass, which National Route 1A passes through, separates Danang and Thua Thien Hue. In order to reduce transfer time and danger for drivers who must travel through winding roads, Hai Van tunnel was built and opened in 2005. This is the longest tunnel in South East Asia with 6.28 kilometers; it allows drivers to save about 30 minutes to one hour in terms of transfer time compared to the old Hai Van route. Also, highway route from Danang to Quang Ngai was constructed and came into use in 2019.
Some bridges crossing Han River, including Han Bridge, is very symbolic. Tran Thi Ly, Nguyen Van Troi, Tuyen Son and Thuan Phuoc bridges are long suspension ones in Vietnam. Dragon Bridge which offers tourists from Danang International Airport a direct wonderful route to My Khe and Non Nuoc beaches, along the eastern coastline of the city, is the most unique bridge in the world.
2.1. Financial system
Almost largest banks and financial companies in Vietnam have branches in Danang. Furthermore, International Banks such as HSBC, Woodi Bank, Shinhan Bank also open branches in Danang in order to meet the financial needs of oversea investors in Danang.
2.2. Office system
Danang is one of the cities having high quality office system. These offices have been constructed, designed to meet the demand of working and meeting for all companies.
2.3. Labor Resource
Labor resource in Danang is very abundant and well-trained. Danang owns a plentiful number of young working people (accounting for 70% population in the city). Danang is also an educational center of the Midland, consisting of 20 universities and 15 colleges as well as other vocational centers with more than 150,000 students. Main training majors include IT, technology, economics, business administration, foreign languages and tourism.
Young labor resource, who is very well-trained, plays a crucial role in the development of society and economy, especially meeting the demands of international investment for Danang. What is more, the fee for working labor in Danang is much cheaper than ones in other big cities such as Ho Chi Minh city and Hanoi. This is a main attraction of Danang in comparison with other large cities.
Particularly, the labor source relating to Information Technology and Tourism is the strength in Danang. Students and young working people are trained professionally to meet the demands from the society.
3. Life Quality
Danang is praised for its green, clean and beautiful environment, air and sound pollution level is much lower than one in other cities. Danang is famous for large number of tourist attractions such as Ba Na hills, spa resorts with international standard where people might come to relax after hard working hours.
In addition, with convenient location - 30 kilometers away from Hoi An (an ancient town which was recognized by UNESCO) and 50 kilometers away from My Son sanctuary, Danang offers the easiest route for investors to travel to other tourist destinations where they are able to gain much experience in tourism of the Vietnam Central.
With the above-mentioned strength, Danang is considered as an ideal place for oversea investors to invest, live and work.