Promoting investment attraction from Thailand to Da Nang
On July 4, 2022, in Da Nang, the People's Committee of Da Nang City, the Embassy of Vietnam in Thailand, and the State Committee for Overseas Vietnamese jointly organized the "Forum connecting Thai Lan-Da Nang businesses 2022"
Attending the fora were Vietnamese Ambassador to Thailand Phan Chi Thanh and Mr. Ngo Huong Nam - Deputy Chairman of the State Committee for Overseas Vietnamese/Ministry of Foreign Affairs. On the side of Da Nang, Ms. Ngo Thi Kim Yen, Vice Chairman of the City People's Committee, leaders of departments, agencies, and more than 40 business representatives from Thailand.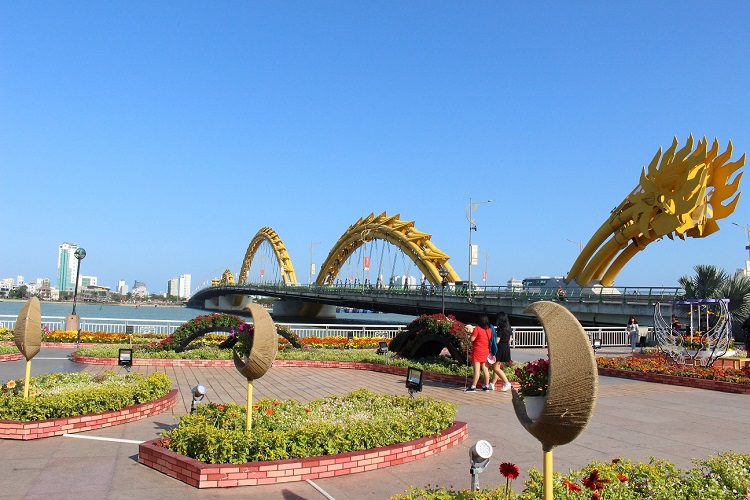 Dragon Brigdge - Danang city
Speaking at the forum, Mr. Phan Chi Thanh said that in the past, the names Embassy in Thailand had received enthusiastic support and close coordination from the leaders of the People's Committee and departments and agencies. Of the city in organizing this significant forum.
Da Nang is the delegation's first stop in the journey through 5 provinces and cities that are major economic centers of the country: Da Nang, Quang Nam, Kien Giang, Ho Chi Minh City, and Hanoi capital.
This is the first time the Vietnamese Embassy in Thailand has organized a delegation of Vietnamese-Thai Thai businesses to Vietnam to connect investment, trade, and tourism with Vietnamese companies, contributing to promoting cooperation between the two countries. Economic cooperation of Vietnamese localities with Thailand.
The forum is a condition to help overseas Vietnamese businesses in Thailand seize investment and business opportunities with Vietnam in general and Da Nang in particular, and at the same time, help Da Nang businesses find partners and customers. Suitable in Thailand.
The Vietnamese community in Thailand has several hundreds of thousands of people, including more than 1,000 Vietnamese businessmen residing in Thailand who always look to their homeland and country, being a critical bridge to cultivate friendship. Consultation and cooperation between the two countries Vietnam - Thailand. The businesses of expatriates operating in Thailand are mainly small and medium-sized enterprises. Many successful enterprises operating in various fields, such as industry, agriculture, and food processing. Import and export, distribution of goods, logistics, services, construction, restaurants, hotels,...
Thailand is currently a significant economic partner of Vietnam, the 9th largest foreign investor in our country with more than 600 projects, investment value reaching more than 13 billion USD. Thailand is Vietnam's largest trading partner in ASEAN. In 2021, two-way trade turnover will reach 19.5 billion USD; in the first quarter of 2022, it will reach 5 billion USD. The two countries set a target of 25 billion USD in trade turnover by 2025.
It can be affirmed that the space for investment, trade, and tourism cooperation between the two countries is still huge if the direct economic connection between localities and localities and between businesses and enterprises is promoted.
In recent years, many Vietnamese enterprises in Thailand have expanded their business and invested in the Vietnamese market. However, that is still relatively modest compared to other large enterprises and corporations in Thailand.
Therefore, the 2022 Thailand-Da Nang Business Connection Forum is of great significance, opening up many opportunities for overseas Vietnamese businesses in Thailand to grasp the city's policies to encourage investment, trade, and tourism. City, work and cooperate directly with companies in Da Nang city to establish long-term cooperation and business relationships in the coming time.
Vietnamese Ambassador to Thailand Phan Chi Thanh suggested that the People's Committee of Da Nang city pay attention and have specific mechanisms and policies to create the best conditions for overseas Vietnamese businesses in the world in general and in Thailand in particular. wishing to invest and do business in Da Nang; to step up investment, trade and tourism promotion with Thailand in general and overseas Vietnamese in particular; soon organize a delegation of leaders and business donors from Da Nang to Thailand to organize advertising, investment, trade, and tourism promotion.
At the Forum, leaders of the Da Nang government and functional agencies introduced the city's policy of promoting and encouraging investment, trade, and tourism to the overseas Vietnamese business delegation in Thailand. And explain projects to encourage investment attraction; introduce the advantages of products, goods, and tourism services of Da Nang; introduce city businesses that are interested in the Thai market and wish to cooperate with overseas companies to connect quickly and efficiently.
The Danang Business Associations and Thai-Vietnamese Business Associations spent time exchanging, discussing, and signing cooperation memorandums to establish long-term cooperation relations; acting as a connector, providing information, and effectively supporting businesses of the two sides in the coming time; continue to organize trips, business networking forums between Da Nang and localities of Thailand...
Speaking at the Forum, Ms. Ngo Thi Kim Yen, Vice Chairwoman of the City People's Committee, said that Da Nang is very honored to be supported by the Vietnamese Embassy in Thailand, the State Committee on Overseas Vietnamese / Ministry of Foreign Affairs. Diplomatic believes in becoming a destination to promote investment, trade, and tourism.
Da Nang has many policies to attract investment, especially foreign investment, in which Thailand is one of the markets of particular interest. The Danang-Thailand Business Connection Forum will be a memorable activity, helping to promote friendship and cooperation in many fields between Da Nang and Thai partners and strengthening bilateral relations between the two countries.
As a coastal city with an important geographical position, Da Nang has been identified as the economic, political, and cultural center of the central-Central Highlands region of Vietnam, the gateway to the central area and from there. I travel to localities in the area and neighboring countries through a well-developed road, sea, and air infrastructure system.
In terms of development orientation to 2030, with a vision of 2045, Da Nang has determined to become a large, ecological and innovative city, a start-up center, innovation, and a livable coastal city.
From March 2022, Da Nang city started to reopen to restore development after a long time affected by Covid-19, to be a reliable destination for Thai partners Lan and many other international friends.
For Da Nang to continue to develop sustainably and prosper, in addition to promoting the available potential and advantages, city leaders and authorities always accompany and support businesses, especially businesses. Overseas Vietnamese in Thailand in fields of mutual interest. The desire to connect the overseas Vietnamese community in general, and in Thailand in particular, always towards the homeland, contributes to building a strong, modern, safe, and friendly Vietnamese Fatherland.
For more information: Our Vietnamese social page or English social page
Local Office Numbers:
Hotline/Zalo/Whatsapp:
+84 357 466 579
Email:
contact@dblegal.vn