Quang Nam Province: A magnet for investors
Quang Nam Province is home to more than 6,000 enterprises, many of which have joined the global value chain. The province is determined to further improve its investment environment in order to lure additional investments....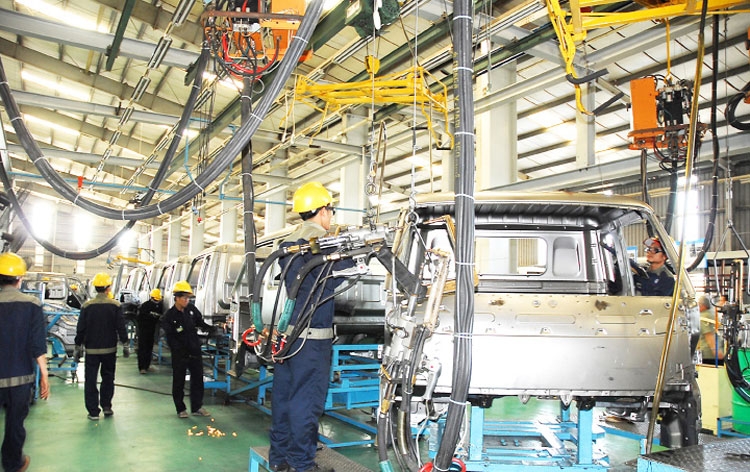 Automobile production in the Chu Lai Economic Zone
Giant FDI projects
Dr. Tran Ngoc Son from the Dong A University says Quang Nam attracted only about US$20 million in foreign direct investment (FDI) when it was reestablished as a separate province in 1997. The province currently takes the lead among the central (including Central Highlands) provinces in terms of FDI attraction, with 135 valid projects totaling US$5.5 billion in registered capital, ranking 13th among the 63 provinces and cities in Vietnam. The province attracted FDI from 26 countries and territories, Singapore being the biggest investor with four projects worth a total of US$4.06 billion, followed by Chinese Taipei with 16 projects (US$184.8 million).
A number of giant foreign-invested projects have recently set up in the province. On March 24, 2017, ExxonMobil Corporation signed with Quang Nam Province an agreement on mining the Ca Voi Xanh (Blue Whale) gas field located about 100km east of the central coast. In its first phase, the project is expected to satisfy the gas demand of four power plants totaling 3,000 MW in capacity.
Of these, two are located in the Chu Lai Economic Zone in Quang Nam Province, and two are in the Dung Quat Economic Zone in Quang Ngai Province. Gas mined in the expanded phase will serve petroleum liquefaction for a fifth power plant with a capacity of around 750MW as stated in the Power Master Plan VII approved by the Prime Minister. Total investment for related projects is an estimated US$10 billion.
Another giant project is a US$4-billion resort invested by VinaCapital and Gold Yield Enterprises and developed by the Hoi An South Development Co., Ltd (HASD). The project will be partially operational in early 2019 and completed by 2035.
Strong suits
Dr. Tran Ngoc Son attributed Quang Nam's FDI attraction achievements to the province's flexible investment promotion policies, simplified administrative procedures, and improved investment environment.
However, Son also assessed that Quang Nam's FDI attraction is not commensurate with its potential. Quang Nam should focus on introducing its potential and competitive advantages to continue attracting FDI, and strengthen high quality human resources training to better meet enterprises' needs.
Son recommended that Quang Nam prioritize investment in sectors that are its strong suits. These include support industries, the processing industry (consumer goods, household appliances, farm produce, forest products and seafood, and building materials), agriculture (hi-tech agriculture, and farm produce production and processing), tourism, service and urban development (ecological urban areas, high-grade coastal and riverside resorts, hotels, restaurants, and super markets).
Quang Nam Province has attracted 126 FDI projects totaling US$5.5 billion in registered capital from investors from the Republic of Korea, Japan, Singapore, the US, China, France, Germany, Italy and other countries and territories.
Source: Xuan Hoai of Vietnam Economics News.